Before becoming a motorcycle brand, Godier-Genoud was a legendary team that revolutionized the world of Endurance. If Georges Godier and Alain Genoud have been titled European Endurance Champions three times (World Championship today), they wrote history by winning two time the Bol d'Or with very innovative motorcycles.
The Godier-Genoud team win the 1974 Bol d'Or with a motorcycle fitted with a Kawasaki engine mounted in an Egli frame. In 1975, they build a revolutionary motorcycle designed by Pierre Doncque; in order to offer optimal mechanical accessibility, its chassis is perimeter, and above all, is equipped with a single shock absorber designed for F1. In fact, this machine is definitely the first motorcycle with a perimeter frame and monoshock suspension of all time, which will quickly inspire all motorcycle manufacturers, especially Japanese, with the Prolink, Full-Floater and other Unitrack systems. The team has not applied for a patent…
This motorcycle won the 1975 Bol d'Or. Then Alain and Georges withdrew from competition to focus on building racing motorbikes  and opened a particularly renowned Kawasaki dealership. They also became motorcycle manufacturer based on Kawasaki. Today, the Godier-Genoud are particularly rare and therefore sought after.
Georges Godier died during a motorbike accident in 1993. Despite the difficulties that the company will then encounter, especially with the closure of the dealership, Alain Genoud still develop the Godier-Genoud brand with determination, focusing now on the high-end motorbikes for endurance classic races and demos. He also renovates the Godier-Genoud which are regularly entrusted to him.
Associated with Gilles Hampe, Alain won the 2005 Bol d'Or Classic and the Kawasaki Godier-Genoud continue to fill the podiums of this event which has become a benchmark in the world of classic motorcycles. 
Alain has just built a magnificent Racer based on Kawasaki. He knows how to make powerful and reliable engines. He also knows how to optimize frames and settings in order to ride a very good motorcycle on the track, with modern behavior. More than a renovation, this pure racing preparation benefits from all the Godier-Genoud experience, to develop the most efficient "type Z" in the world! Since the presentation of this Godier-Genoud Racer at trade fairs and demonstrations on European events like the Sunday Ride Classic, Alain has built a second racer and plans to prepare a third. These motorcycles are for sale or for rent in order to participate at Classic events; it is the perfect motorbike to ride on an exceptional machine, extremely beautiful and efficient!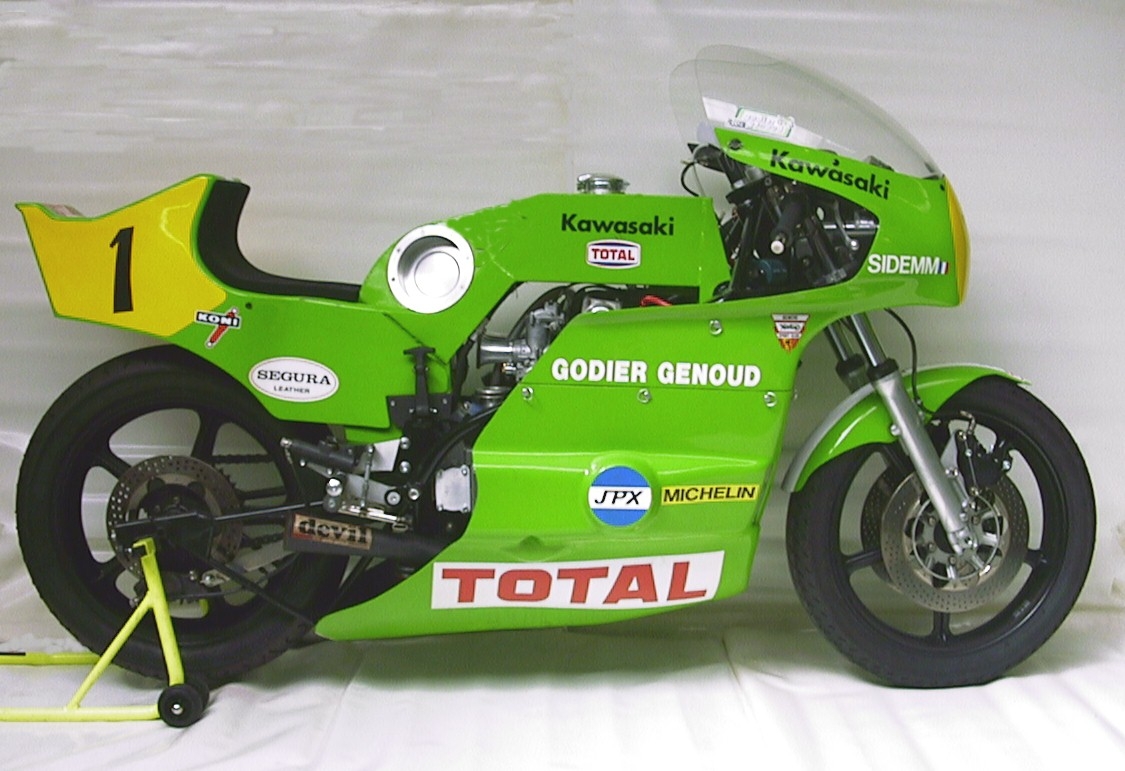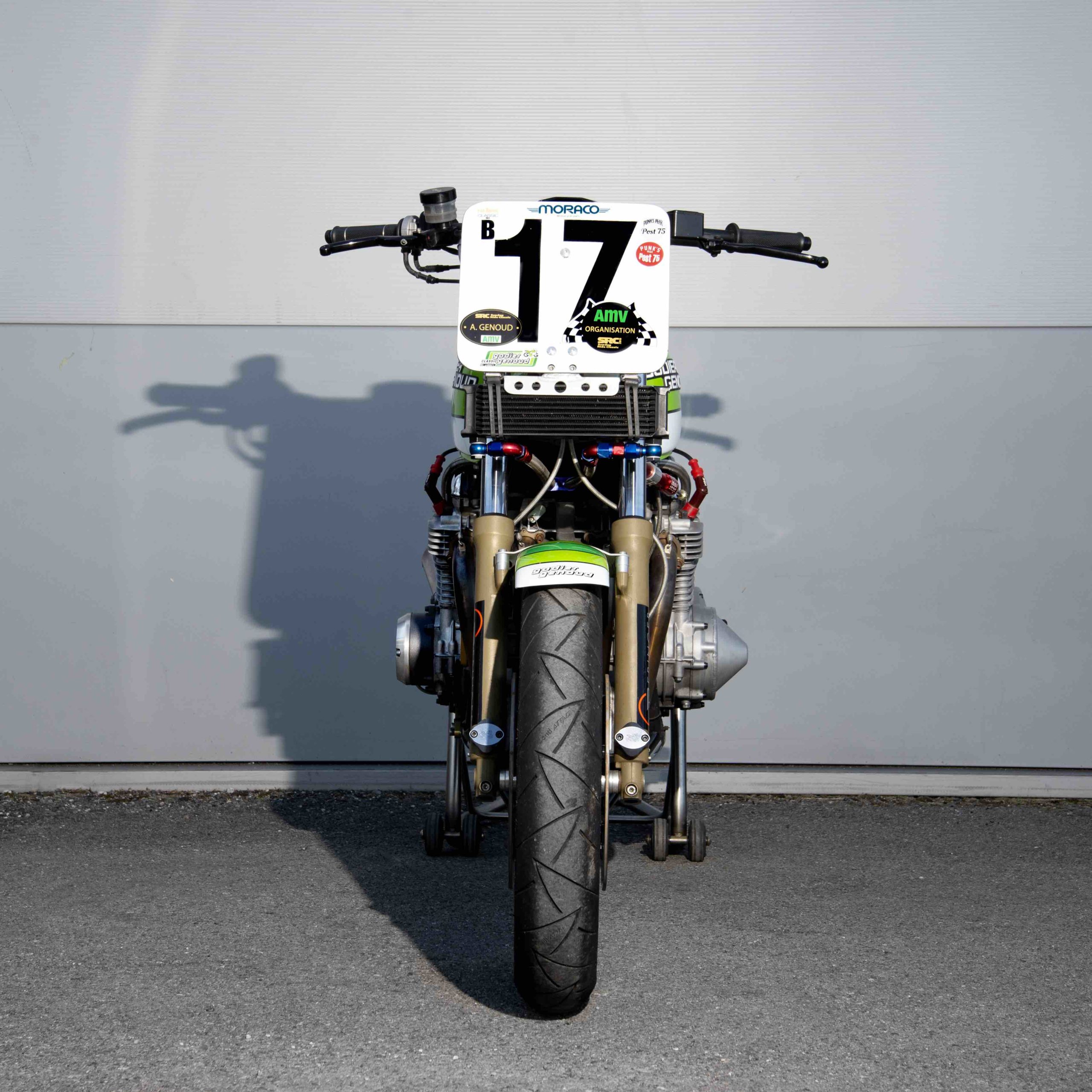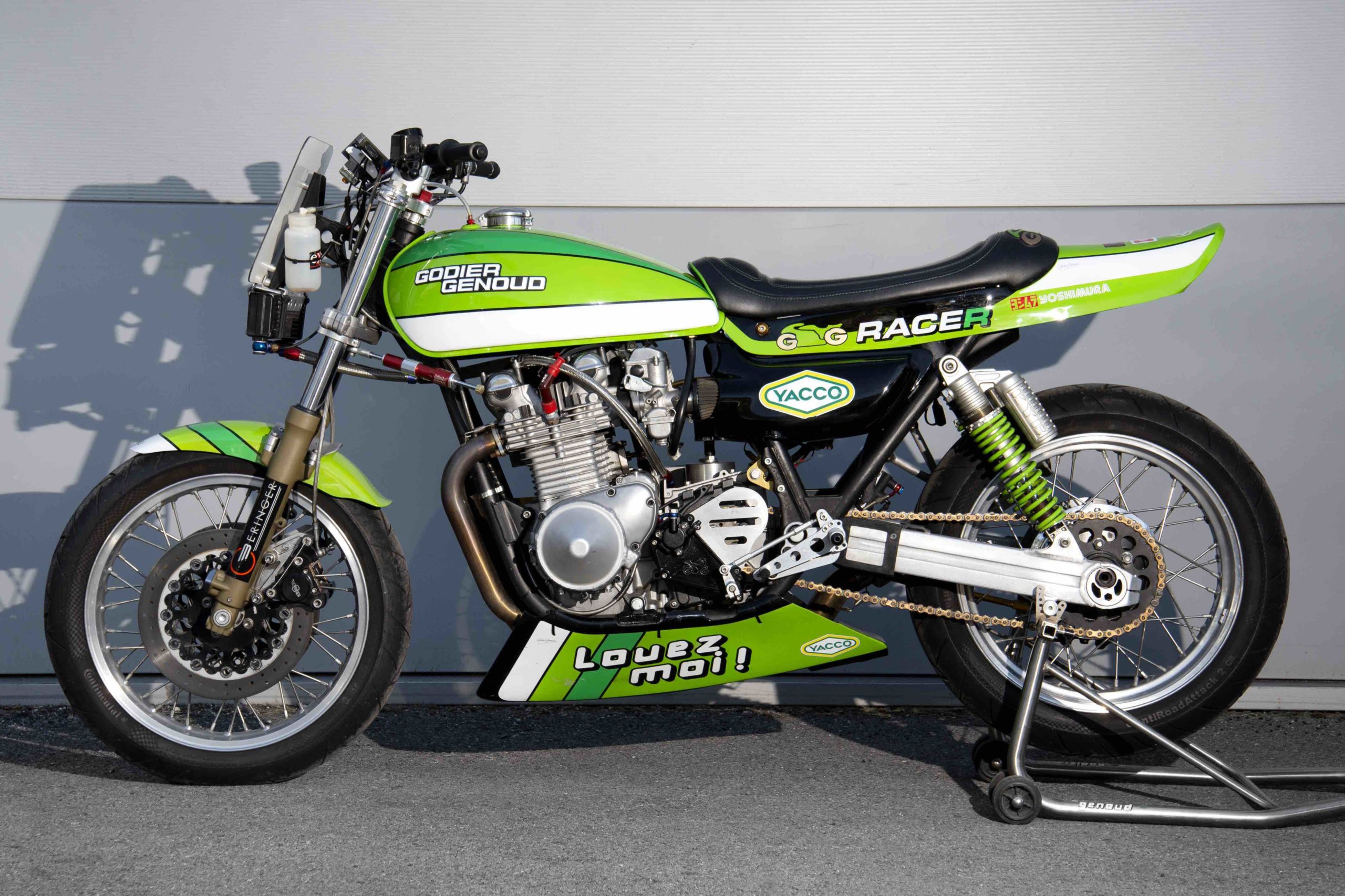 ENGINE
1075cc
120 CV
Balanced crankshaft
Prepared cylinder head
Yoshimura Camshafts
Tailor-made 3 Y exhaust
Mikuni Yoshimura d.29 Racing carburetors
CHASSIS
Lightened and reinforced frame
Engine up
Inclined shock absorbers
40 mm fork with GG special settings
Front wheel: 2.50 x 18
Rear wheel: 4.25 x 18
CR2 Continental tires
Narrow 520chain
Béringer Classic 2 pistons brakes
Total Weight: 190kg